MIJARC Rural Youth Promoting Human Rights in Europe
Welcome to this webpage dedicated to MIJARC Europe campaign 2012 on Human Rights issues. Here you will find our campaign flyers as well as many resources to inspire you in your campaign actions.

This space was also created for sharing all the actions on Human Rights promotion in Europe, motivated by our call for Action.
Enjoy it and cooperate with us to make it dynamic!

Download the Flyer
This flyer was created by MIJARC Europe to be a "motto" for rural young people in Europe, empowering them to take actions to promote Human Rights, especially in rural areas. Feel free to spread it as widely as possible.
In order to reach the widest public as possible, the flyer was translated in 5 languages, by young people from our member movements.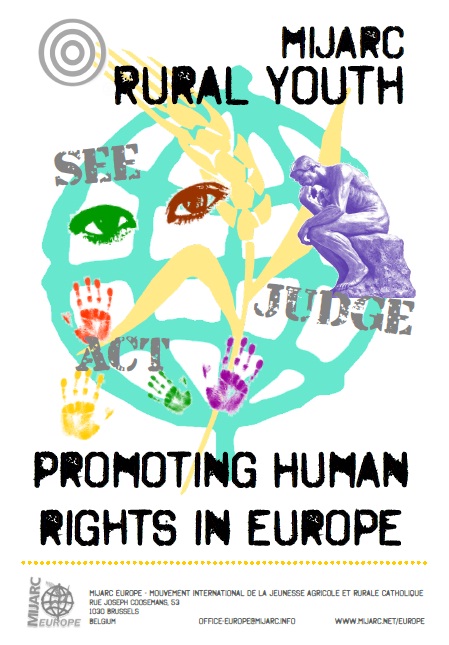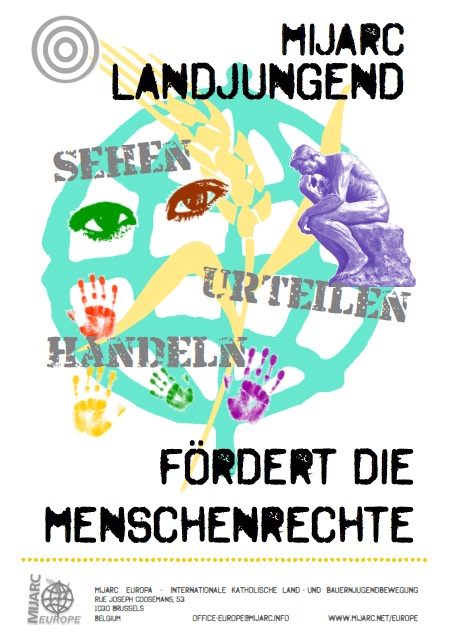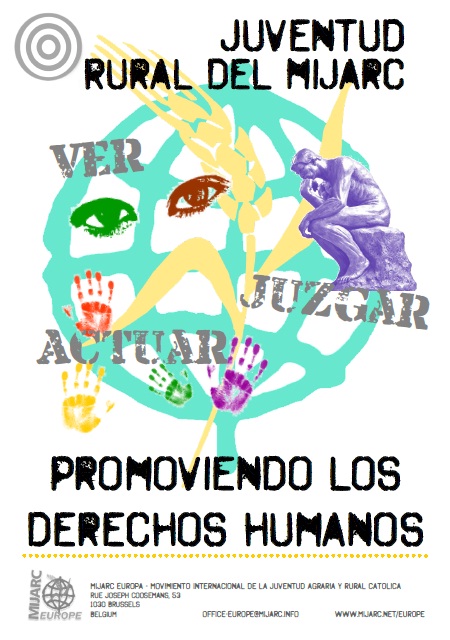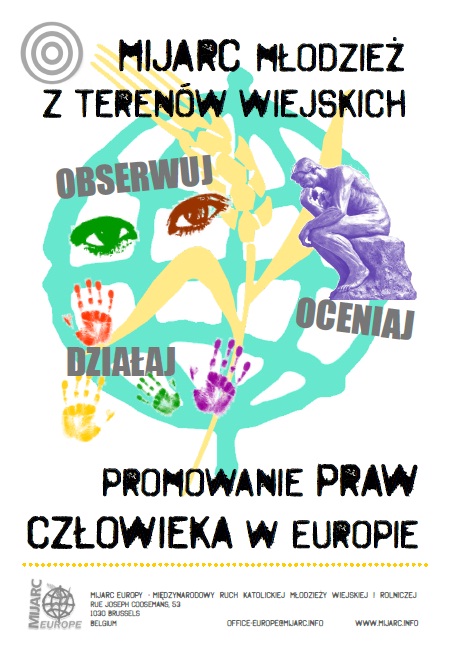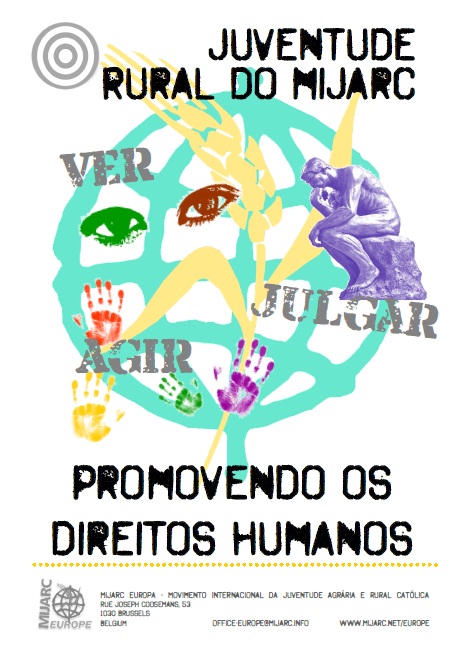 Actions Promoting Human Rights in Europe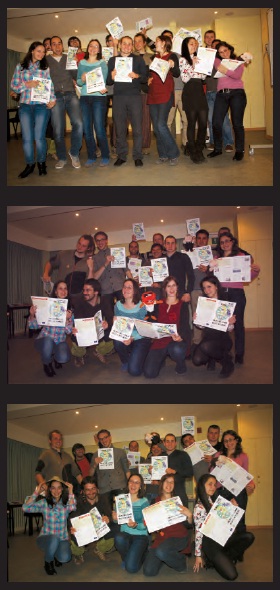 Be the first sharing your way(s) of promoting Human Rights in Europe. We aim to gather as much actions as possible from all around Europe.
Send us (office-europe(at)mijarc.info) a description of your action(s), documented with pictures, if possible. Tell us what did you do, when, where, the target group (how many people and age range) and the results you achieved.
We consider all kinds of actions important (short, long, involving many participants or a very small group, needing almost no resources or many of them), so we will be delighted to publish them all here!

Example
// MIJARC Europe officially launched a Human Rights campaign entitled "MIJARC Rural Youth Promoting Human Rights in Europe", on the 31st of March 2012, in Brussels (Belgium). The European Team of MIJARC presented a movie about the history of Human Rights and presented the flyer created specifically for the campaign to 9 representatives of MIJARC member movements, aged from 18 to 30 years old.
Each representative took back home a pack of printed flyers in order to spread them as widely as possible, reaching young people from the grassroots.
This Webpage was created to spread the results of this campaign which was also officially divulged by e-mail to member movements, partner organisations, participants to the Human Rights Seminar that took place in 2011, donors, media, etc...
A promotion of this campaign is also being made in MIJARC Europe Facebook page and on our quarterly magazine InfoEurope.

Get Inspired
Sometimes is hard to get started and having ideas. Therefore we present you here several tools/references already existing to work on the promotion of Human Rights.

> The most complete tool we have found so far, compiling theory and concrete activities for the promotion of Human Rights is the COMPASS - a manual on Human Rights Education with Young People. This publication from the Council of Europe is available for download and it was already translated to many languages.

> The Council of Europe provides many other interesting and useful tools to work on Human Rights issues in general and more specific related topics. You can check all the downloadable publications here. Some are also available in several languages.

To give you some content input as well as more ideas for action we strongly recommend:

All different all equal - ideas, resources, methods and activities for informal intercultural education with young people and adults

Domino - a manual to use on peer group education as a means to fight racism, xenophobia, anti-semitism and intolerance

Gender Matters - a manual on addressing gender-based violence affecting young people

Manual for facilitators in non-formal education involved in preparing and delivering the programme of study sessions at European youth Centres

Have your say! - manual on the revised European Charter on the participation of young people in local and regional life

This campaign was also created in relation to MIJARC Europe Position Paper on Human Rights. There you can also get inspiration on the reflection done by a group of rural young people and their commitments to change the situation.

This campaign is a result from our Seminar "Think Globally, Act Locally: make rural youth promote Human Rights in rural Europe" that took place in Bredene (Belgium), in April 2011. Know more about this activity here.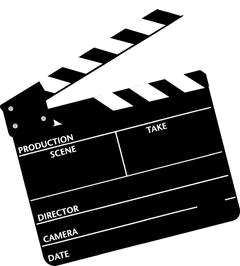 And... ACTION!



// APSD AGENDA 21 (Romania)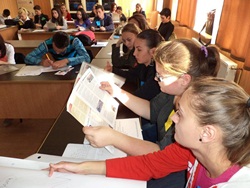 ♦ APSD-Agenda 21 launched the human rights campaign "MIJARC Rural Youth Promoting Human Rights in Europe" on 24th April 2012, during a meeting with young people from rural areas in the Ilfov-Bucharest region. The meeting gathered 40 young people aged between 13 and 19 years old, covering all the rural areas surrounding Bucharest, representatives of the local decision making bodies and teachers.

During the meeting, the participants were given key information on human rights, children rights and the importance of human rights education. They were also given the flyer of the campaign, together with other materials APSD-Agenda 21 published on the issues of human rights including a Companion-type publication on the use of Council's of Europe Manual of Children Rights Education "Compasito" and a Toolkit on gender-based discrimination and domestic violence.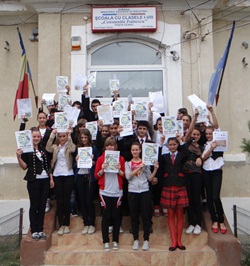 ♦ In June 2012, APSD-Agenda 21 organised a meeting with young people who benefited from the child care and social assistance system in Romania, in rural areas from Ilfov county. A number of 20 young people aged 7 to 24 years old took part in the meeting.

The team of facilitators organised games and activities on the issue of human rights, with a special focus on the right to freeedom of opinion and expression and the right to freely participate in the community. The flyer together with the position paper were presented and explained. The participants received the flyer and committed to spreading the information in their group.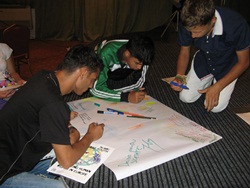 ♦ In October 2012, the "MIJARC Rural Youth Promoting Human Rights in Europe" was continued by APSD-Agenda 21, which organised four meetings with young people from rural areas in four different counties in Romania.

Different groups of volunteers met with young people from four villages in Prahova, Buzau, Tulcea and Ilfov and talked about human rights education and how human rights issues are approached in their school curriculum. The teachers also took part to the meeting and acknowledge the need for an improved school curriculum on human rights education and the need for more non-formal activities related to human rights to be developed in rural areas. The participants received the printed flyers and were also recommended several websites on which they can find more information on the campaign and human rights in general.

// JARC (Portugal)
JARC actively contributed for the divulgation of MIJARC Europe's Human Rights campaign in Portugal. The main focus was on social media since it was considered the best way to catch the attention of young people nowadays:

♦ Facebook Page (http://www.facebook.com/jarc.portugal), google+, twiter, ...

♦ E-mail spreading to the local youth calling for action as well as partners, kindly asking to contribute in the spreading

♦ The governmental ministry of youth and sport published the campaign on their website (which demonstrates a great recognition): http://juventude.gov.pt/eventos/cidadania/paginas/campanhaeuropeia_mijarceurope.aspx


♦ Our friends from the Catholic Youth workers (JOC) also published on their website: http://www.jocportugal.com/jovens/462-jarc-divulga-campanha-europeia-direitos-humanos-do-mijarc-europe

♦ During JARC's Summer Camp, in August 2012, in a beautiful and historical town, Alvito, 20 rural young people were involved in a raising awareness campaign action in the streets of this village. They distributed the flyers translated in Portuguese and explained its meaning. Flyers were also lef in the hosting house where the group stayed one week so other groups coming after could also be aware of the campaign.

// YMDRAB (Bulgaria)
Human rights is one of the main topics in the action plan of YMDRAB. Each year we organised an activity dedicated on the topic of Human rights. Considering the international campaign of MIJARC Europe on the promotion of human rights, in 2012 YMDRAB Bulgaria decided to further focus on the issue and realised two projects related to the topic: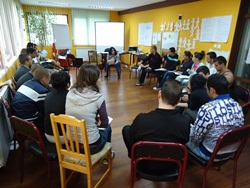 ♦ Training course "Take my hand!", held from 6th to 13th of April 2012 in Velingrad, Bulgaria. The project was implemented with the financial support from Council of Europe by the European Youth Foundation. We had 20 rural young participants - equal number Bulgarian and Roma people. The main aim of our project was to encourage rural youth from these two so different ethnic groups to find ways to overcome and transform interethnic conflicts between them in a peaceful way and to increase their mutual tolerance.

During the training in a non-formal way the participants had time to share and analyse different types of conflicts and to identify the reasons for interethnic tensions in the Bulgarian villages. They learnt how to avoid automatic thoughts and misconceptions through active interethnic communication and cultural exchange. The participants improved their competences for non-violent conflict transformation, by using concepts such as identity, cultural and intercultural sensitivity, social rights and responsibilities. The topic of Human rights was deeply discussed. A field visit, on 8th of April – the International day of Roma people, was organized to Roma neighborhood. On the next day the participants had an opportunity to talk with special guest – the deputy mayor of local municipality who is from Roma origin. Moreover they generated ideas how to decrease the level of tensions between young Roma and other youth and identified ways how to overcome the mutual social exclusion.

After a hard work the participants developed a statement with proposals how to overcome the social exclusion of Roma people in rural areas, what can be done and where is the role of young people in this process.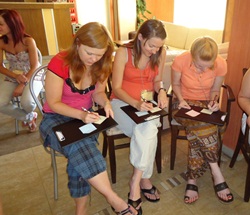 ♦ As a part of our commitment towards a more inclusive growth YMDRAB in partnership with another 6 organizations from 5 European countries implemented the project "Let's give a helping hand!". This was an international training course for increasing the capacity of youth workers in their efforts to support the social inclusion and employability of the young people with communication problems in the rural areas of Eastern Europe. The training took place from 20th to 29th of July 2012 in the village of Bojenica, Bulgaria. Through the various methods of non-formal education, the experts increased the participants' awareness about the essence and applicability of the latest methods for work with young people with communication disorders. During the training participants exchanged experiences and expertise and acquired practical skills to overcome the low self-esteem and the social isolation of the young people caused by speech and language disorders.

By these projects, YMDRAB Bulgaria took the opportunity to take part in the Human rights campaign of MIJARC Europe and support the promotion of human rights. It should be noted out that the flyers designed by MIJARC Europe had a great impact on the participants motivating them to further promote the access to rights.

// MIJARC Europe
Human rights was a very present topic in MIJARC Europe activities in 2012 and we tried to give as much visibility as possible to our European Campaign:

♦ The flyers of the campaign were distributed during our activities and meetings the board and secretariat took part in.

♦ During our Migration Seminar from the 2nd to the 5th July, in Toledo, the Human Rights were a "hot topic" (http://mijarc.net/en/node/289)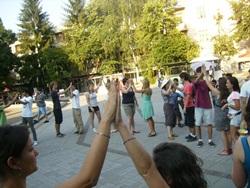 ♦ During our Summer Camp from the 19th to 26th August, a special activity was implemented in order to promote the importance of human rights within the local societies. The summer camp, which took place in Velingrad, Bulgaria, was a great occasion to raise this issue, since the participants had the chance to get together for a week and discuss the role of religion in integrating minorities.

After several days of activities, which aimed at raising the awareness and the knowledge of the participants on the topic, they prepared a flashmob which was performed in the center of the town where the summer camp took place. The flashmob successfully gathered the attention of the locals and served as a great platform to send a message to the local community that human rights are important and every single person has the obligation to respect and defend the rights of other people. (http://mijarc.net/en/node/293)

Thank you all for this great work! This campaign will be ongoing until the end of the year. You can still send us your reports so we can include them here.

This campaign is supported by the European Youth Foundation (Council of Europe) and Stiftung Junges Land. The content here presented reflects the views only of the authors and the sponsors cannot be held responsible for any use which may be made of the information contained therein.